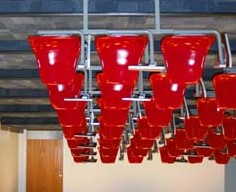 Next to MOOCs, the most popular term for transforming education in 2012 was the term "flipped classroom." While no one completely agrees on the specifics, the term generally means that an instructor will "flip instruction" so that face-2-face classroom time is used better to engage the student in an active learning process. So, rather than using class time to lecture and home time to read and do assignments, students learn the background material in advance of class, then solidify that knowledge by doing various exercises and group activities to practice these concepts. The professor acts more as a tutor or facilitator, helping students solve problems, than as a fount of knowledge.
None of this is earth shattering news for anyone who has taught an anthropology seminar where class participation plays a key role and students are expected to have prepared by reading in advance. The instructor in this setting facilitates discussion, rather than lectures, and expertly steers that discussion in a productive direction. Today's discussions of the flipped classroom, however, seem to differ in two ways. The first is that this methodology is being applied in large lecture settings. The second is that out-of-class preparation is now often done by using either recorded lectures or YouTube videos provided by companies like the Khan Academy or TED-Ed. Add to that the quickly growing number of free lectures available on MOOCs.
According to some boosters, students come out of flipped classrooms having retained significantly more than those coming out of the more traditional lecture model. To others, the love affair with the flip has faded. After all, is watching a video of a lecture any better than being in a lecture, especially if it has to be done outside of class when there are competing priorities?
As far as I can tell, flipping the classroom is just one form of a much less sexy concept: effective course design. Just as the hype around hybrid and online learning has started to fade with the realization that technology on its own will not produce good education, so too will the hype around flipped classrooms. But that leaves us back at trying to determine what effective course design means. While I know that there are as many good course designs as there are good instructors (and there are many, many of those), I imagine that one of the rules of thumb may be to use all elements of the educational experience (classroom time, readings, videos, assignments, activities, etc.) to mutually reinforce one another.
As a publisher of texts for classroom use, I'm interested in knowing how you use readings and texts effectively in the classroom. We know that students tend to not only buy the textbook, but actually read it, if it is worked into the course effectively. But what does that look like for you? Do you base assignments on your readings? Do you use textbooks as a general reference (also known as a security blanket) and then use your lectures to cover the information they will need to know for the exam? Do you assign readings for tutorials or to provoke small group discussions? Do you cover the important concepts in class and assign readings (like ethnographies) to illustrate those concepts? What kinds of books do you value most as support for your teaching? Feel free to leave a comment below or respond to us on Twitter (@TeachingCulture).
Anne Brackenbury, Anthropology Editor