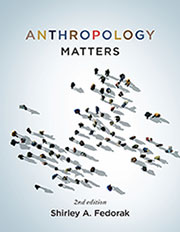 In the first of a series of regular online interviews, the author of Anthropology Matters, Shirley A. Fedorak, shares her inspiration for writing the book, suggestions on how to use it effectively in an introductory anthropology course, her own approach to teaching, and some of her preferred teaching resources.
TC: What inspired you to write Anthropology Matters?
SF: I've always felt that anthropology should be more accessible to the general public. I also firmly believe that anthropologists should pay more attention to culture in their own "backyard" and to subjects that have meaning for young people living in the twenty first century. I have examined subjects (e.g. homosexuality) on which anthropologists have been strangely silent, or that they are only beginning to explore. This concerned me and I felt that anthropologists needed to become more in touch with the "real world" rather than only focusing on exotic cultures and practices. So out of my desire to make anthropology more accessible and relevant, and from conversations with students inside and outside the classroom, plus my own personal reflections, Anthropology Matters was born.
TC: What is your favourite part of the book?
SF: The chapters that speak directly to our everyday world gave me great personal and professional satisfaction; for example, the chapters on social media and Third Culture Kids should resonate with many students. I also enjoyed "shaking up" Western perceptions about other people's lives. For example, the chapter on purdah should inform students that Muslim women are often not forced into wearing hijab—it is their choice—while also pointing out that hijab can be symbolic of oppression. I feel that the chapter on female circumcision is important because I have encountered so many people who are not even aware of this practice, but it also brings the subject into focus and should dispel some of the misconceptions people hold. Questioning the well-entrenched idea that NGOs are "doing good" around the world was also a rewarding experience for me since I have always silently wondered whether they were doing more harm than good. So in answer to the question, any part of the book that questions assumptions is my favourite part of the book.
TC: How do you see this book being used in the classroom? Is there anything unique about it that would be particularly helpful to those teaching undergraduate anthropology?
SF: Most of the chapters take a critical perspective, and one of the most important roles of instructors in any discipline is to encourage students to question—question their assumptions, question what they are reading, and question what they hear in the media. I think Anthropology Matters brings some questions to light and should get students thinking about these issues—while also encouraging them to question everything I have written as well.
When teaching anthropology, I chose relevant chapters for required reading. For example, when we were examining social organization and marriage, my students had to read the chapter on same-sex marriage in order to expose them to other ways of viewing marriage, and some of the biases and misconceptions surrounding same-sex marriage that are perpetuated in North America.
TC: What are your favourite courses to teach?
SF: I loved teaching introductory cultural anthropology in university and senior high school because it is often the first exposure young people have to cultural diversity that is as objective as possible. I find it personally gratifying when I can open students up to other ways of living, yet also emphasize that, for example, a house is a home, regardless of what it looks like–we need to understand that all people have the same needs, just different ways of fulfilling these needs.
I also enjoy teaching senior high school economics because there is very little in our lives that is not touched by economics in some way. Through economics we can question the economic practices of Western countries, NGOs, globalization, the power of multinational corporations, and so on, and their impact on the rest of the world. This is a vital role of anthropology and its cognate disciplines (e.g. economics) because students are being inundated with the superiority of Western institutions to the point where many of them no longer have a balanced perspective. I also find it gratifying that many of the concepts and issues we study in anthropology apply in economics courses.
TC: What do you enjoy most about teaching anthropology, and what do you find the most challenging?
SF: I enjoy opening up students' minds to other ways of living, other ways of thinking and believing. In many ways, I try to give my students the experiences that Third Culture Kids have had as they lived in other countries. I hope that these students become more appreciative of cultural diversity and more willing to consider alternative ways of solving problems—this makes for good leadership skills and a more balanced world view.
My biggest challenge has always been to find contemporary anthropological material that my students can identify with. The historical focus or ethnographic emphasis on exotic cultures is both the greatest strength and the greatest weakness of anthropology. On the one hand, without the ethnographic study of other cultures we would have lost so much valuable information on traditional cultures that have now disappeared or dramatically changed. On the other hand, it is now time for anthropologists to pay attention to those nearby and to study the impact of modern technology and communication on cultural systems in the West as well as more distant places. I'm gratified to see that more recent ethnographies present the cultures and cultural practices of those around us.
TC: How would you describe your approach to teaching?
SF: I have tried to balance my teaching, spending part of my time lecturing, and the rest of my time with active learning. This is much easier to do at the high school level than in large lecture classes at the university level, but it is possible.
I think it is important for the instructor to convey anthropological content, insights, lived experiences, and so on, to young students who really have little awareness of the rest of the world except through questionable media. It is equally important for students to learn investigative skills through hands-on activities.
At the university level, I created "foods for thought" for my students where they had to consider controversial questions, often from an angle or perspective quite different from what they were used to. Many of those questions are in Anthropology Matters. Through discussions and reflection students had to submit their informed opinion pieces to be graded. They also were required to conduct research and write papers on topics that they were particularly interested in.
At the high school level I incorporated a great deal of group activity and problem-solving activities that were based on the questions in Anthropology Matters. Again, making students think about an issue, then discuss it, write about it, or debate it, enhanced their learning experience.
TC: Do you have any favourite teaching resources (videos, websites, podcasts, books, journals, etc.) that you wholeheartedly recommend?
SF: I always liked showing the video Masai Women to my students because it touches on many of the topics we discussed in class and it is well made. The Faces of Culture series used to be fairly well done, but the newest version I saw focused more on anthropologists than cultures so I was hesitant to use it since that type of video will not hold students' attention.
At the high school level, because all students had computers, we often searched out reliable websites, and relied on the EBSCO database for articles to read.
In my own writing, I often search out blogs from anthropologists; in fact, a lot of the information on social media and anthropology has not found its way into journals, but is on anthropology blogs. I also relied on a textbook to bring to light many of the concepts that students need to understand. In the future, I will rely on Anthropology Matters to introduce these concepts as well as create a critical perspective.