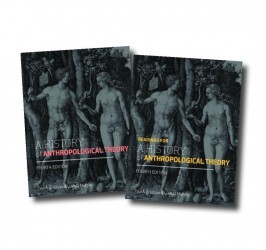 To coincide with this week's release of the fourth editions of A History of Anthropological Theory and Readings for a History of Anthropological Theory, Paul A. Erickson (St. Mary's University) and Liam D. Murphy (California State University, Sacramento) share the story of what inspired the first editions (it has now been fifteen years since the initial publication of A History of Anthropological Theory). They also discuss what they enjoy most about teaching anthropology. 
TC: What inspired you to write A History of Anthropological Theory and Readings for a History of Anthropological Theory?
PE: Actually, my wife, Dawn Erickson, inspired me, because she thought that the history of anthropological theory course I had been teaching for many years would make the basis for a good book. I agreed, and thus the first edition of A History of Anthropological Theory was born. A few years later, based on the success of the book, the publisher at the time approached me with the idea of creating a companion "reader," which I also thought was a good idea. Thus, the first edition of Readings for a History of Anthropological Theory was born. Throughout the four editions of each book, I have been inspired by my love of the subject while being energized by my collaboration with co-author and co-editor Liam D. Murphy.
LM: I've always said that collaborating with my former professor, Paul Erickson, has been one of my proudest achievements. Very few undergraduate students can make that claim! Of course, the experience has been a wonderful learning experience as well, given that each new edition has forced us to revisit certain ideas and assumptions, and the state of the field in general. It's hard to believe we're on the fourth editions, as it certainly doesn't feel like it's been that long since we mapped out the first!
TC: What are your favourite parts of each book? 
PE: My favourite parts of A History of Anthropological Theory are probably the first and last parts: the first part because the early history of anthropological theory is often overlooked and the last part because the early-twenty-first-century trends in anthropological theory are so exciting and diverse, especially in the arena of public anthropology. In the latest edition of the book I really like the new pedagogical aids, including questions for thought, and the variety of provocative new illustrations, which make the book lively. My favourite parts of Readings for a History of Anthropological Theory are probably those parts that present the theories that have influenced me in the past, although not necessarily in the present, notably cultural neo-evolutionism and cultural materialism. I am also proud of the introductions to the four sections of the fourth edition of the book written with Liam.
LM: If I had to pick, I would probably choose earlier sections that address pre-disciplinary anthropology as part of a broader process of Western cultural and intellectual development. I'm very much interested in antiquity, generally, and gravitate to discussions of the classical and medieval world. 
TC: How do you see these books being used in the classroom? Is there anything unique about them that would be particularly helpful to those teaching undergraduate theory courses?
LM: Well, for me the unique quality of both texts is that they chart the intellectual development of anthropology from the Greco-Roman period on. For some, treating anthropology as a discipline that existed "before" it existed might not be satisfactory, but I feel that this is precisely the kind of connection that benefits students in the classroom. Learning about the field in the context of wider developments in the creation of knowledge helps distinguish our texts from others that really stick to the "script" of anthropology's formal emergence in the nineteenth century.
PE: I think that both A History of Anthropological Theory and Readings for a History of Anthropological Theory are accessible yet sophisticated enough to be used by both advanced undergraduates and graduate students. Published simultaneously, the fourth editions of the books can be used in tandem, and many professors are likely to find them self-sufficient for assigned course reading. A History of Anthropological Theory is written in especially accessible prose, avoiding jargon and defining technical or important terms, including definitions in a glossary. While this book focuses on cultural anthropology, it features sections on archaeological, biological, and linguistic anthropology, which broadens its appeal.
TC: What are your favourite courses to teach?
PE: It should come as no surprise that my favourite course to teach is History of Anthropological Theory. Because I am fascinated by evolution, I also enjoy teaching Introduction to Biological Anthropology. And, an avid movie buff, I have just finished teaching a new course called Anthropology in Hollywood, which comes a close third.
LM: I am blessed to have courses on my plate that take me in a variety of stimulating directions. Every semester, I teach Magic, Witchcraft, and Religion as a General Education course, but I also have the opportunity to explore religion at more advanced levels in two other courses: Religion and Culture and Rise of Religious Cults. Another favorite of mine is Europe in the Ethnographic Imagination, and I also enjoy leading graduate seminars every other year… my last one—Ethnomusicology—was especially fascinating and represents what I hope will be an area of future research for me personally.
TC: What do you enjoy most about teaching anthropology, and what do you find the most challenging?
PE: Besides the history of anthropological theory, I especially enjoy teaching introductory anthropology, because anthropology is a subject that most beginning university students have not encountered in high school; therefore, they are opening their eyes to it for the first time. Partly for this reason, and notably in biological anthropology, the greatest challenge that students face is technical vocabulary and helping them overcome this is my greatest challenge in teaching.
LM: I mostly enjoy the learning process—cultivating a solid understanding of a book or a focus of study and then evoking it in classroom lecturing and discussion. Like most faculty, I suppose I find grading to be the most onerous and least rewarding aspect of teaching!
TC: How would you describe your approach to teaching?
PE: I am old fashioned: I like to "lecture," although not in small classes. I believe strongly in having students write lots of formal English prose, and I also believe that a large number of smaller assignments is preferable to a smaller number of larger assignments. In smaller classes, if there is good group chemistry, I enjoy simply talking and, where appropriate, converting the learning trajectory into a true conversation, as has been the case in my new course Anthropology in Hollywood.
LM: I use an eclectic mix of methods. It all depends on the instructional level I'm facing. For non-anthropology students, I use a lot of PowerPoint and adopt a pretty much straightforward lecturing style. In my anthropology majors' classes, I lecture a lot as well, but discussion and collaborative analysis of ethnographic texts become more important. At the graduate level, I generally delegate responsibility for leading a seminar to a different student each week. Then I kind of steer things from the sidelines…. I like being the man behind the mirror whenever possible!
TC: Do you have any favourite teaching resources (videos, websites, podcasts, books, journals, etc.) that you wholeheartedly recommend?
LM: I'm always finding new books and films to use in my classes, but I generally stick to a "traditional" model of instruction, even when I'm involved with distance learning. In my lower-division teaching, I routinely incorporate instructional tools available on Blackboard (discussion posts, etc.) as a way of getting students engaged, but these are really just alternative grading resources.
PE: A traditionalist, I like physical books. What can I say? I wholeheartedly recommend A History of Anthropological Theory and Readings for a History of Anthropological Theory!