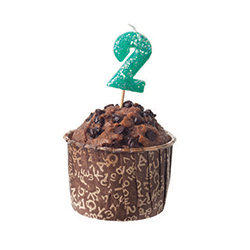 Well, we're now officially toddlers. It's been two fun, stressful, sometimes frustrating, and often exhilarating years of the Teaching Culture blog. And I'm hoping that given the speed of life online we're actually older than we appear (has anyone worked out the online years vs. human years equation yet?). We came at this as book people, not bloggers, so we don't claim any expertise about blogging or tweeting, and like any toddler, we have a lot to learn about pacing ourselves. But even if the road ahead is filled with challenges, we also know that we've come a long way. We've gone from zero to being able to walk (running is another matter), and I think we may even be starting to find our voice(s) as well. So we're taking a few moments out to celebrate where we've been before we sharpen the focus on where we are headed, and what we still want to accomplish.
We started this blog as a place to exchange ideas about teaching in anthropology. The name comes from our Teaching Culture ethnography series. But we had always hoped it would be much more: a lively place to discuss ideas about teaching, publishing, and innovative ways of thinking about how to translate anthropology to a broader public (including undergraduate students). We have been humbled to realize how challenging this has been. If the first year was about getting the site working, learning Twitter, and calling on the people we knew (the stable of anthropologists and authors we already called friends) to create useful content, the second year has been about learning how to hone our vision, how to pace ourselves, and how to reach out to the broader community. The excitement of the first year definitely leveled off in year two, and there were periods where the only way we could keep the fires going was to tweet about the amazing work others are doing, rather than create our own content. But we're ending our second year feeling invigorated and as committed as ever.
If blogging is not just a monologue, but a dialogue that involves building a community and an ongoing discussion, then we feel really lucky to have made a new friend in the Anthropology Department at the University of Texas at San Antonio. We have teamed up with the graduate-student-led Anthropology Teaching Forum (ATF) to post recaps of their ongoing workshops on pedagogy in anthropology. This underscores one of the important roles of this blog: supporting the scholarship and practice of teaching anthropology.
We've also spent the year thinking and developing ideas to support teaching in general, from sharing sample syllabi for interesting courses, to offering teaching reviews of some of our books, to developing new book series designed specifically for teaching. To this end, we launched the Anthropological Insights Series in 2014, making the latest in scholarship intelligible to undergraduates. The first book in the series will be published in late 2015.
Beyond this, it is ethnography and the potential it offers for teaching and reaching a broader public that has captured our imagination this past year. We've shared our thoughts on what we've been hearing at conferences, on Twitter (see @TeachingCulture), and in one-on-one discussions. What is unique about ethnography—the focus on storytelling—is what interests us most, so we are thrilled to be publishing a new introductory cultural anthropology text that privileges stories and storytelling at this year's AAA meetings. Be sure to drop by the UTP booth and check it out. We'll also be launching an innovative new ethnography series designed to better capture stories and the visual/dialogic elements of fieldwork. Stay tuned on that front—more news coming soon! As well, our Teaching Culture Series continues, and we look forward to publishing a number of new titles in 2015/16—ethnographies designed specifically for undergraduate teaching.
As with any toddler, we don't even realize yet how much more we have to learn, but it seems to me that the power of two is important. It's not only double the power of one, it's exponential. It connotes collaboration rather isolation. And it suggests staying power. We're not just a flash in a pan. We know what we're into now, and we're still here, focused on the long haul—that fifth anniversary that Alex Golub counsels all new bloggers to strive towards.
Thanks for your support over these past two years. The anthropology blogosphere is a vital and dynamic space that grows by the day, and Twitter is an amazing platform for strengthening the ties that bind us all. We're now moving into our third year, and you know what they say about three… actually, we have no idea what people say about three, but once we do figure it out, we'll be sure to write the story.
Anne Brackenbury, Executive Editor