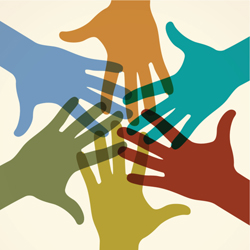 "Collaboration" seems to be everywhere in anthropology these days. While many of the central research processes of the discipline have always been "collaborative" in one way or another, the term itself has come to feature more prominently in the descriptions and outcomes of what it is that anthropologists do, whether in journals like Collaborative Anthropologies, ethnographies like Les Field's Abalone Tales: Collaborative Explorations of Sovereignty and Identity in Native California, or the ethnographic film co-productions of UBC's Ethnographic Film Unit.
All this makes the prospect of doing what I am trying to do right now—teaching a new course on "Collaborative Anthropology"—possible. It also makes it daunting. How to teach a course on collaboration that addresses the long history of the process in the discipline, and gets at what is new about its most recent incarnations? More significant still: How to teach what is so important about the idea of collaboration in anthropology today, while also addressing the complex practicalities involved in trying to actually make it happen? We will, of course, be reading about collaboration (and in the process trying to determine whether the recent ubiquity of the term warrants considering it something other than a synonym for processes that have always been essential to the discipline), but there remains something about this process that can only really be learned by doing it.
Collaboration has always figured in my own research and teaching, though I rarely referred to it as such prior to 2006 when I began working with my colleagues Ian Colquhoun and Alex Totomarovario to organize an ethnographic field course that would focus on, among other things, the benefits and pitfalls of collaboration in research. Based at the University of Antsiranana in Madagascar, this course has now been offered three times, each occasion involving small groups of Canadian and Malagasy students working together in pairs on research projects of shared design. In one incarnation of the course, the collaboration expanded to include members of a community-based conservation association. The results of these collaborations have varied, as they always do, but students on both sides of each pair invariably came away with altered, more grounded, understandings of what collaborating across boundaries of culture, language, and privilege actually entails. To me, as a teacher, this has been the most valuable outcome of these courses. It is what students on both sides will never forget.
Unfortunately, the course that I am working on now won't be taking place in the midst of a larger research project in Madagascar, so the opportunities for learning about collaboration by doing it will have to be generated otherwise. But how? The obvious answer (or so I've convinced myself in the early weeks of class) is to treat the course itself as a collaboration, and to ask the students who take it to approach it in a way that maybe they ought to be approaching more of their courses: that is, as a project that they intend to contribute to as active collaborators rather than something they might just sit through as passive recipients. Rather than just discuss our weekly readings, for example, we will be working together to develop a glossary of keywords coming out of these readings, with all of the file-sharing, co-authoring, and record-keeping headaches this is sure to involve. I have other things planned, but I'm holding off for the time being, hoping that, with some encouragement, students might be willing to make suggestions of their own.
As is normal, and probably healthy, for anyone entering a new collaboration, I admit that I am not brimming with the certainty that all will go well. Which is why I have built a safety into the course—a feature that should ensure that even if the course fails (as collaborations often do!), it ought to fail productively. As a final assignment, students are being asked to work together (apart from me) to design a course of their own on "Collaborative Anthropology"—complete with a collectively authored introduction and syllabus, an agreed upon reading list, and 12 individually authored lectures. And while part of me hopes that they will deliver me some version of the course I'll be leading them through in the coming months, I can't say I'll be disappointed if they show me up with something much better. I have done enough collaborating by now to appreciate that what looks like it ought to work on paper at the beginning of a project won't always live up to its promise, and that better ways forward are only likely to emerge from going ahead with it anyhow.  However it goes, I'll report back early in 2014.
Andrew Walsh is an Associate Professor in the Department of Anthropology at Western University, and the author of Made in Madagascar: Sapphires, Ecotourism, and the Global Bazaar (2012). He can be reached through the contact page of www.madeinmadagascar.org and on Twitter at @AndrewWalsh33.