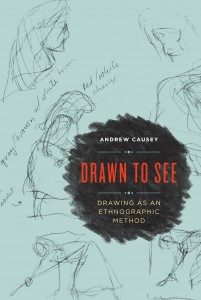 Drawn to See: Drawing as an Ethnographic Method, by discussing how drawing is integral to seeing, encourages readers to consider drawing as a legitimate ethnographic method. To further this purpose, then, the book also shows readers how to draw in a way that will enrich their ethnographic research. These drawing exercises, or "Etudes," are integral to the book and help set it apart.
Each Etude builds upon the last, with the first Etude in the book helping readers to accept the notion that they can draw, and later Etudes convincing readers to use drawing not only as an additional method for anthropological research, but as a way to better perceive (and understand) the world.
Rather than instruct readers on precisely how to apply ways of drawing to other methodologies, my intention is to present readers with a set of drawing skills that will assist them to perceive more deeply, which will in turn help to make the information they've gathered (using whichever method) more encompassing and richer.
Here are some examples of Etudes taken from the book:
The first four demonstrate how to gradually become comfortable with drawing and seeing. I include the final Etude because I've had remarkable results from it in my own class, with students realizing that they are able to draw and see ethnographically.
Here are some student examples: