This month, we launch our first graphic novel and the first book in our new ethnoGRAPHIC series, Lissa: A Story about Medical Promise, Friendship, and Revolution. This project is the result of a collaborative effort involving many players, but at the heart of the process is the collaboration between two anthropologists and two artists. In advance of the book's publication, our editor, Anne Brackenbury, sits down with artists Sarula Bao and Caroline Brewer to discuss their role in the making of Lissa.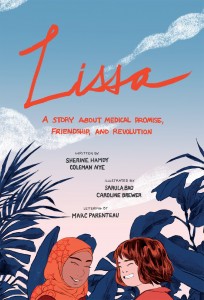 AB: You were both students at the Rhode Island School of Design (RISD) when the opportunity to collaborate with two anthropologists on a graphic novel arrived. What made you want to get involved with this project?
SARULA: When I first read the synopsis for Lissa, I was immediately touched by it and struck by the strength and heart and importance of the story. I really wanted to grow with an incredible group of people and to learn, share, and honor the voices and stories of all the people represented in Lissa.
CAROLINE: Lissa was a total mystery to us when we started out. Having my cartooning professor, Paul Karasik, pull me aside after class with an opportunity like this was sort of dream-like. I certainly didn't know what I was getting myself into though. Up until that point, the longest comic I'd drawn was 31 pages. As a third-year undergrad, I couldn't have guessed the half of what I'd learn on a project like this. And that unknown really excited me. The chance to work with and learn from anthropology professors at Brown, coupled with the opportunity to engage my interests in history, anthropology, creative writing, and literature in a visual and collaborative way, made me ready to start drawing on the spot!
AB: So how did the process work? Did the authors hand you a script and leave you to draw it as you saw fit or did they give you very specific directions and lots of background information? Was the script finalized when you started drawing or did it change along the way and if so, were those changes minor or did they involve more major elements like new plot twists, the development of new characters, etc.?
CAROLINE: Lissa was a living, breathing script from the very beginning. When it was first brought to our attention by Paul Karasik, its structure was definitely underway but the details were not. Paul, Sherine, and Coleman worked pretty tirelessly to transform the original transcript into what is basically a screenplay, separating the action and beats out panel by panel, so that Sarula and I could work to thumbnail the entire book page by page for a visual read through. Once that was completed, and the team could see the bare bones of the graphic novel taking shape, I think it finally allowed us to work more closely with the authors, fleshing out the narrative, editing and adding to the dialogue, and honing the details of place, culture, climate, and daily life. That's not to say Lissa was a linear project; we back-tracked, revised, scrapped, and redrew many times before we were finally done. We were a big team all learning and growing together at once, making something none of us had ever made before.
SARULA: Absolutely, a good amount of it was working in tandem with the authors in terms of that visualization, especially in the beginning and during our trip to Egypt, we were constantly checking in with each other in terms of designing the characters and settings. There were only specific directions based on visualizing Cairo and more of the technical medical aspects of the graphic novel, otherwise, we were pretty much left to ourselves. The script changed a lot throughout the process, so we were changing our plans quite a lot, sometimes it was major, but it didn't really affect the drawing since at a certain point we learned to just hold off on the drawing until the script was more finalized.
AB: What do you think about anthropology after your experience working on Lissa?
CAROLINE: As an illustrator, my job was to encourage and channel the preciousness our authors put into their research and writing. So much love and care, so much almost exhaustive detail was delivered to us. And as illustrators we had to take this incredible amount of information and synthesize it visually. It was frustrating, but also so engaging, because we had such a wealth of imagery and feeling to work with. Part of me expected there to be some academic coldness in the ethnographic process. But contemporary anthropology feels warm and humanistic and is brimming with care and emotion. And I think Lissa stands as a testament to that.
SARULA: It was so amazing to work with Sherine and Coleman! It was nothing like what I had expected, and they're both very different from the professors I had had at RISD. They both have so much care and empathy and fun. I had taken a class at RISD that was something like Beginner's Anthropology 101 so I knew and understood some of the basics, but it was still a completely different experience to dive into the specifics of a culture or group of people directly related to medicine. I learned so much from them, about their fields, as well as how to collaborate with writers and academics. There was a lot of mutual giving and receiving, compromise, and pushing each other to make the story better and better.
AB: What was your favorite part of working on this project?
SARULA: My favorite part was creating the visual language, coming up with ways to tell the story through symbols and metaphors, style, and other visual elements that went beyond the text on the page. I wanted these aspects to create an interesting and full experience for the reader. This sort of thing is always a lot of fun for me!
CAROLINE: My team. I couldn't have asked to work with more talented people. I'm inspired and awed by Sherine, Coleman, Marc, Francesco, and Sarula. Nothing feels better than to come together with a group of people who are not only brilliant, but technically skilled, emotionally intelligent, and driven by care and collaboration. I've found mentors and friends through this project, which is something of a cherry on top of our work together.
AB: What was the greatest challenge you faced with the project?
SARULA: The greatest challenge was drawing the struggles and story of the Egyptian Revolution of 2011. Not so much technically, but I questioned whether or not I was capable of truly honoring the bravery, suffering, and heart of a nation, religion, and people that I am not a part of, a cultural background that I don't have. It's why it was so important to make sure that while it was my creative input, it was not my voice that shined through, but that of the many human beings that the characters are based on. That, and deadlines.
CAROLINE: The first problem that comes to mind is technical: being truly green at the beginning of this project. The book was a double whammy: not only was I illustrating a graphic novel, I was learning how to illustrate a graphic novel, working through issues that ranged from narrative pacing, to digitizing original art, to communicating with the publisher, to that frustratingly rudimentary task of drawing a character consistently over the course of one hundred pages. I had my hands full with Lissa, and I thank my lucky stars I had so many wonderful mentors who stressed self-care and consistent forward motion.
AB: Both of you have used the word "care" as an important part of this experience. Do you think collaboration requires this kind of care to be successful? Are there other things that you found absolutely essential to working collaboratively?
CAROLINE: While working on Lissa, I found that care could be an infectious and driving force. Honestly, I think we each held certain parts of this project more preciously than others, but the group balance contributed to the forward momentum we needed to get so many different needs and objectives met with such a large team. Care for the patients, doctors, and people of the revolution, care for the art and the narrative sequence, care for the storytelling, and care for the formatting: the tiny details and the big picture. I think we learned, as the project unfolded, not only how to balance the needs of the individual players, but to view them in concert with each other and let a commonality of care, for the work and for each other, be the driver.
SARULA: Absolutely, I think it's necessary. If you didn't care about the work, if you didn't care about the people that you're working with, then what are you doing it for? The very point of this project for me was that I cared about its subject matter, about my team, and the various people who are represented in it. Without that care I wouldn't have worked my hardest to bring it to life. It's so natural to care for someone when you both care about the same work and subjects, it builds when you spend so much time together. The other things that I found essential all come with care: listening to each other, compromising, communication, and dedication.
AB: Knowing what you know now, would you recommend this kind of a project to a student or do you think it requires more professional experience? And would you do it again?
SARULA: I think I wouldn't recommend it to someone who is a sophomore or below in college, but ultimately it depends on the person. I think an anthropologist would find it easier to work through the technical aspects with an experienced professional, but would find the process as a whole easier if they were working with the right person, the right chemistry, and a similar style and set of interests. Of course, I would absolutely do this again!
CAROLINE: Trust and partnership were really crucial to me in this project. I don't think I'd recommend an undergrad take on a project of this magnitude alone. Sarula has been my rock, and I've grown so much from working next to her. While splitting Lissa between two illustrators was complicated, it was invaluable to have the support of an artistic partner to learn with, work late nights with, share critiques with, and everything in between.
I would do this again. Despite the blood, sweat, and tears, I know that the next time I work on a piece like this, whether personal or collaborative, I'll be able to engage the countless tools I developed over the course of Lissa. I would do this again because this book has been an invaluable education from start to finish and I know I still have so much to learn. Because I've worked with the smartest, coolest team around, heard the beautiful, painful, triumphant stories of people I would have never had the pleasure of meeting in places I would have never been lucky enough to visit. Lissa was one of the most challenging projects I've had the opportunity to be involved in and it's an experience I look forward to tackling again in the future.
AB: If you could draw a picture to capture the most important part of this experience what would it be?