On World Anthropology Day, we are thrilled to highlight an important project that is currently in the works. This guest post is about the making of a graphic ethnography, scheduled to be published by the University of Toronto Press in 2017. Here, the filmmaker, Francesco Dragone, who is documenting the process of transforming scholarship into graphic novel form, outlines a recent trip to Cairo, Egypt organized by the academic authors to help the artists better understand the physical, social, political, and cultural landscape in which the novel is situated. We'll be offering periodic updates on this project throughout the year, with more from the authors on the challenges and opportunities that graphic novels offer for realizing ethnographic research.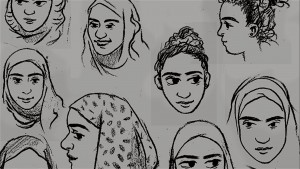 In December 2015, a team of US- and Canadian-based ethnographers, comic artists, and a small crew of filmmakers took off to Cairo, Egypt, to work on the in-process graphic novel Lissa: Still Time. Authored by anthropologist Sherine Hamdy, from Brown University, and professor Coleman Nye, from Simon Fraser University, Lissa is a fictional novel based on the two academics' research on kidney failure and organ transplants in Cairo, and on BRCA genetic testing and preventive mastectomies in the US respectively. Professors Hamdy and Nye worked to transform their ethnographic research into a plausible fictional story narrating the lives of Layla, an Egyptian girl, and Anna, an American expat living in Egypt. Each of the two friends faces a medical decision that the other cannot comprehend, raising questions around ethics, global health inequalities, and religion.
Hamdy and Nye worked diligently on crafting the script throughout 2015 and, with support from Brown University's Watson Institute, they reached out to Paul Karasik, cartoonist and instructor at the Rhode Island School of Design, who selected and directed his two illustration students Caroline Brewer and Sarula Bao to transform the script into visual form. Hamdy and Nye—for whom ethnography is a fundamental hands-on experience—were awarded funding from the Henry R. Luce Initiative on Religion in International Affairs, in order to embark on a fieldtrip to Cairo to facilitate the artists' full immersion in the sites where Lissa takes place. The team was further enriched on this trip by the presence of ethnographic film director Francesco Dragone, who followed the Lissa team to document the experience.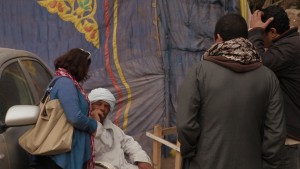 During their time in Egypt, the team was busy with a variety of activities, exploring historical sites in Cairo, and visiting neighborhoods and spaces that are central settings to the story: from the Cairo Medical School where the Egyptian protagonist Layla studies to be a doctor, to the modest shack of a Cairo bawab (doorman) where Layla's family lives, to the largely American expat communities in Maadi, a suburb to the south of Cairo where the American protagonist Anna's family is based. Tahrir Square, site of the popular uprisings that began in January 2011, was another important site, and the team visited its intricate spaces numerous times, including the Omar Makram mosque, which served as a field hospital for injured protestors in the clashes of December 2011.
The Lissa team also met with numerous local cartoonists and illustrators, exchanging notes and soliciting feedback on preliminary designs. The group took advantage of their opportunity to pitch the story to Egyptians of various ages and socioeconomic and educational backgrounds, obtaining productive commentary and further refining details of the story. A prominent military and security presence around Tahrir Square and other major sites around Cairo pointed to tensions that were building in anticipation of the fifth anniversary of the January 25th revolution, allowing the illustrators and authors to experience a sharper sense of the complex political situation that is now all too common in Egypt. The film crew recorded these encounters and journeys with the objective of composing a short behind-the-scenes documentary about the ethnographic and creative processes of Lissa.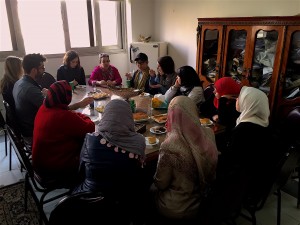 As a feminist narrative with strong women protagonists, the team also sought out input from Egyptian feminist scholars and activists, specifically the Women and Memory Forum of Cairo, where they were generously hosted and treated to a video archive of women's experiences in the 2011 revolution, which will further enrich the scenes depicting the protests.
This experimental ethnographic field trip to Egypt greatly enlivened the already promising Lissa project, allowing the team to engage in conversations with local medical practitioners, scholars, and comic artists, revisiting the plot and refining details of character and landscape design. This created the opportunity for the illustrators to immerse themselves in the world of the novel and in the crowded, noisy landscapes, and poignant scents of the Cairo megalopolis. Hamdy and Nye's plans include the publication of a print book for the University of Toronto Press ethnoGRAPHIC series as well as an accompanying interactive platform through a Brown Digital Humanities initiative where further resources, as well as the short meta-ethnographic film, will be available for viewing.
Francesco Dragone is an Italian ethnographic filmmaker. He holds a BA in Hispanic and Portuguese Studies from the University of Turin (ITA), a Postgraduate Certificate in Digital and Visual Cultures from ISCTE Lisbon (PT), and an MA Visual and Media Anthropology from Freie Universität in Berlin (GER). He has more than five years experience in the field and he has been conducting extensive ethnographic research in several countries in Africa, Asia, and Europe. His main work is directing, shooting, and editing independent documentaries on a vast range of subjects with a particular orientation to biographic and experiential narration. Francesco has a strong foundation in visual storytelling and narrative structure, and works with a diverse set of clients, companies, and brands. His training in the holistic discipline of anthropology has given him the necessary tools to unravel and faithfully portray social dynamics, as he balances his own artistic preferences with his genuine desire to capture life's moments in film. Visit https://vimeo.com/francescodragone.