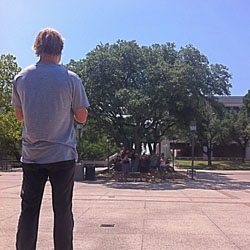 We have all had them: the truly excellent, gifted professors who inspired us. We have also had some pretty awful instructors, wondering how on earth they have been allowed to continue to teach. As professors, most of us fall at points in between, and that point can change by the day, class, course, or semester. So much depends on the interpersonal dynamics of the class, the material, the structure of the class, our desire to teach the course, how busy we are with other things—and so on. There is no way to tackle the depth and complexity of teaching in one blog posting, nor would I be qualified to do so. Instead, here I'd like to offer my experience of designing, executing, and revising my Teaching Anthropology graduate seminar. My goal is to share resources and perspectives to contribute to the growing interest in talking about teaching in Anthropology.
It's important for me to say at the outset that I love teaching. And, I'm an extrovert, which makes working with people energizing rather than draining. To me, teaching is just another component of the process of discovery, which drew me to Anthropology and higher education in the first place. My orientation to teaching is the same as my orientation to research, even to graduate school: explore, synthesize, create, experience, revise, repeat. Most days, I walk out of class on an adrenaline high, even after 11 years of teaching.
The Teaching Anthropology seminar at the University of Texas at San Antonio (UTSA) is relatively unique. It grew out of the development of our PhD program. Our Department of Anthropology is four-field at the BA, MA, and PhD levels. Our BA and MA are generalist programs, but our PhD program focuses on Environmental Anthropology. The PhD began in 2005. From the outset, we designed our curriculum to prepare our doctoral students in theory, method, and professional development. The latter includes a proposal design seminar as well as this seminar on teaching Anthropology. The Teaching Anthropology seminar is an elective, offered once every three to four semesters. Originally intended to help our MA Teaching Assistants during their first TA experiences, I took on the course as it became part of the PhD curriculum and UTSA began to require university-wide, nuts-and-bolts TA training.
I designed Teaching Anthropology to be an odd but intentional hybrid of an undergraduate survey course (this is what teaching is…), a professional development practicum (develop a teaching portfolio, how to balance teaching/research/service…), and a graduate seminar on critical analysis of and reflection on pedagogy. I want students to add to their developing professional identities with theory and practice alongside a healthy dose of critical thinking about their career paths and what teaching means in the big picture of our world today. I won't rehash the syllabus here, but a quick glance at the requirements and readings should illustrate the mix of the pedagogical and the practical in the course.
I structure and execute each three-hour class meeting in a way that mirrors what I ask the students to do in the course: bridge the pedagogical with the practical, teach to a diversity of learning styles and preferences, be reflexive, try it out, revise, and then try again. Weekly class preparation includes a variety of kinds of texts, again running the gamut between the theoretical and the concrete. bell hooks' reflections on critical thinking productively push many students' boundaries, while Weimer's book considers teaching from a hands-on, life-course perspective. Buller situates teaching within the research/teaching/service triad, using helpful thought exercises on career trajectories. Rice and McCurdy's collection of active learning exercises in the different subdisciplines of Anthropology provide a series of examples for students as they develop their own courses' activities. I supplement these texts with online commentaries, examples, and strategies. These can range from TEDTalks by Ken Robinson on how schools are killing creativity, to a business primer on how to present like Steve Jobs and an interview with Claude Steele on stereotype threat and education, to newsletters from universities' teaching and learning centers across the country.
Each class opens with a discussion of the lesson cycle for the day. In this example of a class outline, the topic is pedagogy, teaching the discipline of Anthropology, and personal teaching philosophies. The example outline shows how we vary between class and small group discussions. Discussions can explore readings, connect readings to assignments and real-world examples, and facilitate peer review of the weekly assignment.
As we move through the semester, students are simultaneously observing Anthro professors (thank you, colleagues, for letting us into your classes!) with a structured guide, and developing their own teaching philosophies and portfolios. Each week's assignment is a component of their teaching portfolios, and assignments are workshopped in class by the students. They also receive out-of-class, individual feedback from me. These weekly assignments become the backbone of their final teaching portfolios, which include a teaching philosophy statement, multiple syllabi with assessments and evaluations, and their lesson cycle recording and assessments. An example of an assignment is to develop, record, and self- and peer-review a lesson cycle on an Anthro topic they know little about.
One of my favorite parts of the course is the guest speakers and panels. These are yet another way we try to connect what we're reading with the day-to-day experiences of teaching and the life course of a faculty member. University and community members have been more than willing to participate in the class. For example, UTSA's VP for faculty and student recruitment and diversity comes to discuss institutional diversity initiatives during the class on diversity. In another class, we have a workshop on public speaking by a woman who is an actress, host of a local arts television show, and the CEO of a city theater. A guest panel from UTSA's student conduct office presents the laws and university regulations that influence the classroom and protect students' right to learn. Toward the end of the semester, our Provost talks to the class about his decision to move into administration and his vision for teaching and academics at UTSA. We round out the semester with a panel of Anthropology faculty on teaching, their careers, and balancing research-teaching-service, offering general professional advice.
Now for some self-assessment. Let me preface by saying I constantly revise the course—before, during, and after it. My sources for revision are the course material itself. It's practically impossible not to interrogate my own courses and teaching approaches when I teach the seminar. I also facilitate a mid-semester discussion with the students to see what is working, what is not, and what can be fixed and how. I get useful feedback from the university's end-of-semester evaluations, too.
From these sources, here is what I believe are the strengths of the course, as it is currently structured:
The semester-long development of the teaching portfolio emphasizes the ongoing revision that is good teaching and the amount of time course development takes. It is a "deliverable" with its developed course syllabi and materials, and it potentially serves as a component of the job application (at the least, a working teaching philosophy statement).
Students work consciously and reflexively on their developing careers plans.
Students get insight into how helpful it is to know the various units in a university that influence and can be a resource for teaching.
Students are exposed to the research on educational practice that should be a major resource for them (evidence-based teaching, so to speak).
Students are also exposed to the many wonderful syllabus and teaching resources on the internet (not re-creating the wheel).
Students get more comfortable with public speaking, which for the inexperienced and/or the shy, can be a frightful challenge. One of my favorite in-class activities is Monty Python-inspired. We go out to the quad. I have the students stand on the other side of the quad, while I project a Monty Python selection. They rate me. Then, each one of them has to do it repeatedly, until the majority of their peers gives them at least one thumbs up for projection and clarity.
Students have the opportunity to move from consumers of teaching to teachers through observations of our faculty, developing a lesson cycle, and growing their teacher/professorial identities.
The challenges—things I would like to work on, also from student comments and my reflections:
Students' positionality affects the degree to which the material hits home and thus is immediately relevant. They can take the course before, during, or after their first teaching assistant or teaching position. Diversity in this regard can sometimes impede the depth and length of peer assessment and class discussion.
Often, this is students' first formal exposure to teacher training. It can be overwhelming, intimidating. It can be like a freshman survey class with graduate seminar expectations of critical synthesis and analysis.
Different students gravitate to different class components—practical or pedagogical—and want more of that component. We rarely address either one thoroughly in any one class.
Students would get even more out of the class if they could "try out" the lesson cycle as well as individual activities they are developing for their portfolios. Given there can be 20 students in the class, how do we create those opportunities?
I struggle with incorporating new pedagogies with which I have no experience and little familiarity (for example, online learning). I am still figuring out how to do this more effectively.
The reflexivity parts of the class can be hard for some students. Students' comments and critiques of class work or even the course can come from very emotional, deep places. Since the course is discussion based, this can pose a challenge to student engagement. We all come at teaching with implicit assumptions and models that we hold dear—much like parenting. Outside of educational research, most of us talk about teaching with authority based on experience and these implicit models. For teachers, we hold tightly to our beliefs because they justify behavior we believe may be very influential on others. How can we identify and analyze these beliefs and assumptions in a safe space? There is so much room for implicit and explicit criticisms to be taken personally. hooks helps with this, but it can still be hard to facilitate those discussions.
Since I see teaching as a constant opportunity for growth, not mastery, I sometimes feel uncomfortable teaching a class on teaching. The "growth mindset" is a good one, but it can also make teaching the class challenging.
I think another important source of assessment is students' reflections after they have some distance from the course and some further teaching experience. Will Robertson, who took the course as a MA student, subsequently taught for the department, and equally grooves on teaching, will provide his reflection on, and assessment of, the course in a subsequent post.
My hope is that some of my perspectives or course materials can be helpful as a resource or even counterpoint to others interested in how our future Anthropology professors can learn how to teach. Since my syllabi and class activities are most often creative inventions generated from a whole bunch of other syllabi and public ideas, I'd also be happy to share other course activities and resources that I have. My email is: jill.fleuriet@utsa.edu.
Jill Fleuriet is an Associate Professor of Anthropology at the University of Texas at San Antonio. She began learning how to teach as an undergraduate in Harvard College's Undergraduate Education Program and then taught middle school science for a year. During graduate school at Stanford University, she was a peer evaluator for teaching through the Center for Teaching and Learning and co-facilitated departmental conversations on teaching with Dr. Bill Durham. At UTSA, Jill continues pedagogical training and practice with help from her students and colleagues, the Provost's Academy on Critical Thinking, and UTSA's Center for Teaching and Learning.