Graphic Adventures in Anthropology
This is the fourth post in a new blog series called Graphic Adventures in Anthropology. Once a week for 7 weeks, a guest contributor will write about some aspect of graphic anthropology (and by "graphic" we mean drawing in general, and comics in particular), from visual culture to visual communication, and from ethnographic method to dissemination device, culminating in the announcement of a new series we are launching at the press called ethnoGRAPHIC. Here's the line-up:
Andrew Causey: Drawing as an Ethnographic Method
Stacy Leigh Pigg: Learning Graphic Novels from an Artist's Perspective
Sherine Hamdy & Mona Damluji: Reflecting on Arab Comics: 90 Years of Visual Culture
Coleman Nye: Teaching Comics in a Medical Anthropology & Humanities Class
Gillian Crowther: Fieldwork Cartoons Revisited
Juliet McMullin: Comics in the Community
Nick Sousanis: Unflattening Scholarship with Comics
Anne Brackenbury: ethnoGRAPHIC: A New Series by University of Toronto Press
See last week's blog posting here.
Reflections on Arab Comics: 90 Years of Popular Culture
By Sherine F. Hamdy (Brown University) with Mona Damluji (Wheaton College)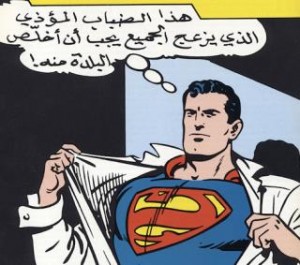 Who is the man behind Superman's cape? It depends on where you read superhero comics! In Lebanon, he is Nabil Fawzi, and he was so well adapted as an Arab character, that most comic fans did not realize that he was a translation of the Anglophone Metropolis's Clark Kent.
Brown University's Middle East program hosted a symposium on February 27 entitled Arab Comics: 90 Years of Popular Visual Culture—a title that co-curator Mona Damluji, a historian of visual culture, described as a "provocation" to raise questions about what is Arab or not about this rich archive. Mona Damluji asked: "How is an Arab identity promoted or challenged by these works?"
The idea for the event was inspired by Mona Damluji's brother and the event's other co-curator, Nadim Damluji, a legal scholar who describes himself as also having an "improbable side career as Arab Comics Scholar." He even joked, in his introduction, that he was grateful that his older sibling, rather than feeling embarrassed by her nerdy comic book loving little brother, saw his obsession with comics as a "curating opportunity."
On a more serious note, given that the complexity of the Arab region is all too often obscured and blunted by political extremism highlighted in the media, Mona and Nadim Damluji together stressed the importance of engaging with a wide range of storytelling forms and perspectives. A universally loved art form, the world of comics offers one such refreshing entrée into happenings in the Arab region, particularly as artists and writers struggle with questions about identity and authenticity.
Michael Allen, a professor of Arabic literature at the University of Oregon, raised questions about the meaning of the "comics" genre itself—is it the form (e.g. gutter, frame, sequential art) or content (superheroes, pulp, noir) that make up "comics"? Picking up on the questions that Mona and Nadim Damluji posed about Arab identity, Allen asked if we could briefly suspend the question about the use of politics and stereotypes in portrayals of Arabs (is this a "good" or "bad" representation?) to a question of recognition (what makes this an "Arab" comic?).
Following him, Nadim Damluji presented a fascinating historical narrative of comics that had been translated and adapted from the US and Western Europe. The Egyptian serial Al Awlad produced comics as early as 1923 with original characters, and later comics from Western Europe and the United States were adapted and introduced into Arabic-language markets in the 1940s, including Nabil Fawzi (Superman) and Hammam (an "Arabized" Tintin).
Nadim Damluji argued that translation was really a form of "conversation" that sometimes had the local artists and editors completely re-write and absorb the characters to be more recognizable to their readers. Other times, the imperialist effects of such translation were more apparent—as in the examples in which Orientalist depictions of lazy, angry, violent, misogynistic Arabs or overly-sexualized Middle Eastern dancers speaking "foreign exotic" tongues were back-translated into Arabic.
Lina Ghaibeh, a professor of animation at the American University in Beirut, presented material from a broad range of Arab countries, highlighting the use of the comics genre for state propaganda under authoritarian regimes, often targeting young audiences to bolster the cult of the authoritarian ruler and war efforts. Comics have also been taken up by politicized anti-state groups that mobilize in the name of Islam or Christianity. Ghaibeh stated, however, that the monopoly the state had over comics has now ended; even in war-torn Syria comic artists are able to upload their work anonymously online.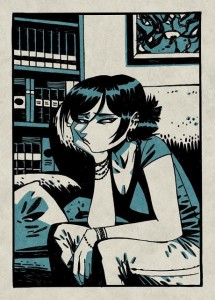 Today, Beirut is the hub of the Arab world in terms of comics production. One exciting quarterly comics magazine, Samandal, was founded in 2008 and publishes in Arabic, French, and English. One of the co-founders, Fadi Baki, talked about the challenges they have faced in producing Samandal (in regard, for example, to self-censorship and state censorship on topics of politics, sex, and religion). Baki also presented, rather movingly, on the relative absence of violence in Arab comics, and of the male hero who—far from wielding powers of mass destruction—questions parodies, and subverts notions of violent masculinity and patriarchy.
The final panel also featured an extraordinarily talented young comic artist Fouad Mezher, based in Beirut, who reflected on how his work has developed over the years both in style and content, and of how he is called to locate his work within the Arab context on the one hand, and yet also tugged in the opposite direction by his own ambitions to tell stories that are not necessarily marked as "Arab."
Mona and Nadim have curated an exhibition by the same name as the symposium that will be installed at Brown University until March 31st and will travel to universities and colleges around the country.
To learn more, go to arabcomicsexhibit.org. A webcast of the entire symposium can be viewed online anytime. See the schedule below for full details:
08:00 | Beshara Doumani | Welcome
15:00 | Mona Damluji | Introductory Remarks
Comics Histories Panel
26:00 | Michael Allan | "Drawing Lines in The Sand: Comics and Caricature Beyond East/West"
48:30 | Nadim Damluji | "Translation as Trojan Horse/Translation as Conversation"
1:16:00 | Lina Ghaibeh | "Propaganda in Comics in the Arab World: From Nationalism to Religious Fundamentalism"
1:48:00 | Elias Muhanna's Response and Q+A
Comics Practices Panel
2:41:00 | Fouad Mezher | "Educated Between Panels"
2:58:00 | Fdz Bx | "Violence as Language: The Inarticulate Medium of Comics"
3:26:00 | Anna Mudd's Response and Q+A