I'm still applying moisturizer three times a day to rehydrate after the arid Denver conditions. It was an energizing, exhausting, and momentous #AAA2015 as members voted overwhelmingly in support of the BDS resolution. As well, it was the end of our special Canadian influence at the AAA with Monica Heller finishing her term as President. I missed her presidential address but will see at least some of it realized in a forthcoming book. Thanks for all your hard work over the last two years @anthroprez (now @MonicaHeller4)!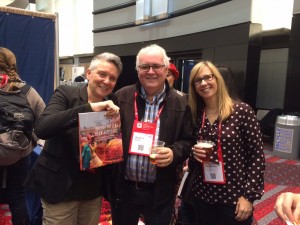 We had a great time launching our new four-field introductory text, Through the Lens of Anthropology: An Introduction to Human Evolution and Culture by raising a glass (or three) of some excellent Fat Tire Amber Ale with authors Bob Muckle and Laura Gonzalez. We're pretty thrilled to have not only the most beautiful and most affordable text on the market, but one of the most interesting as well, with a twin focus on food and sustainability, a skillful and sometimes humorous use of pop culture examples, and Twitter-influenced chapter openers. No wonder our booth (and the praise) was overflowing.
I got to meet some of my favourite Twitter anthros, including Krista Harper (@KristaMHarper), Carole McGranahan (@carolemcgranahan), Jane Eva Baxter (@janeevabaxter), and Lindsay Bell (@drlibertybell). (Well, I already knew Lindsay but because I don't get to see her too often, it was still pretty special.) We talked about the need for developing new resources for teaching ethnography and anthropology, resources that capture the excitement and theory of the discipline but are teachable in the undergraduate classroom. And we brainstormed everything from the idea of a Mark Bittman approach to teaching strategies, to TED Talk-like anthropology podcasts for use in the classroom, and anthropology games like Cards Against Humanity. No sooner had we finished that discussion than we discovered Matthew Durrington's excellent rip-off of the game with Cards Against Anthropology (@anthrocards)! There's so much here to think about and work on, and we'll be continuing this conversation into the future, perhaps with a new blog series in 2016.
Our Teaching Culture Series and our Anthropological Insights Series—both designed to bring contemporary anthropological scholarship to an undergraduate (and public) audience—continue to generate interest, and series editor John Barker and I enjoyed meeting with people and discussing potential new projects. We'll be publishing our first book in the Anthropological Insights Series in Spring 2016.
I sat on an APLA early career publishing panel with some excellent editors from Chicago, California, Stanford, and Berghahn, and was reassured about the future of scholarly publishing. This was one knowledgeable group of editors—all women, in fact—full of advice for both the novice and experienced anthropologist, open to OA experiments, wanting to reach scholars, students, and the public, and understanding of the scholarly publishing ecosystem in which we work.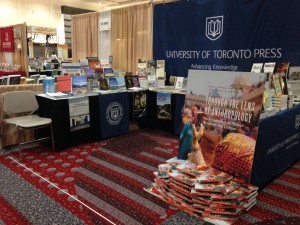 I was also busy talking about ethnography in graphic novel form—in one-on-one meetings with interested anthropologists, in a session on Ethnographic Panels: New Perspectives on Narrative and Graphic Narratives, and in the bar after the panel. There was a palpable excitement for the series both as a way to bring text and image together in pursuit of a more productive ethnographic methodology, and as a rich pedagogical device. The conversation bodes well for the future of a graphic anthropology. More on that to come in 2016 as well!
For now, we wanted to thank everyone who dropped by the University of Toronto Press book display, met with us to discuss projects, considered using some of our texts in their courses, and just engaged us in interesting conversation. These meetings are a rare opportunity to catch up with old friends, make new long-lasting connections, put personal face to avatar, and remember that embodied conversations are important!
Rest up. Dry clean those scarves. If you're American, celebrate well, and maybe try out your hand at some vegan Thanksgiving recipes this year.
Anne Brackenbury, Executive Editor