They say that the way to a person's heart is through the stomach—I'd say that it's also the way to the mind. Some time ago, I decided that I could motivate my students with food and competition. You may have read the post where I discussed using virtual badges and stickers in class to go along with optional activities designed to get students engaged with course materials. Using food in my classes goes back even further.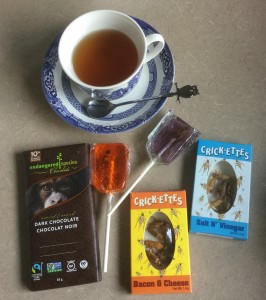 The story begins in 2011, when I first started looking for ways to give participation marks in a class of 300+ students. I had a complicated system set up that involved multiple options, including i>Clickers, Moodle forum discussions, and in-class activities. It was confusing to my students and to me and so I worked to modify it over time. By 2013, i>Clickers eventually became a mandatory part of the class and the sole focus for participation marks, forum activities fell to the wayside somewhat, and the in-class activities have now become contests (some of which have badges associated with them).
Of course, once the in-class activities ceased to have marks associated with them, participation declined. Immediately, I started to look for ways to keep students engaged. One option was to include i>Clicker questions to follow the activities, which works to some extent, but the emphasis fell to the questions and shifted from the activities. I needed a hook…
Waiting in the queue at the campus drugstore one afternoon, I found myself staring at the face of a young chimpanzee. It was on the label of a large chocolate bar. The wrapper declared the chocolate to be Fair Trade, gluten-free, non GMO, certified vegan, and it stated that a portion of the sales went to support endangered species. We had just been talking about primates, environmental threats, and palm oil in class; the chocolate was obviously destined for my students in some way. I bought three bars, one for each section of the course (and one for me—quality control, right?), but I needed an excuse to hand them out. That brought me back to the in-class activities.
For that first prize, I used one of my display screens to project an image of a silverback male and female gorillas. I also used the document camera and a second screen to show students casts of a male and a female gorilla skull. And I asked them to make lists of the differences between the males and females as a way to get students thinking about sexual dimorphism. They dropped their answers into a box and I drew one out. It took a couple of tries to get an answer that was both correct and showed evidence of critical thinking, but once I had a good answer, I shared it with the class and handed over the chocolate bar. This led to a discussion about sexual dimorphism in multiple primate species, including humans and the chimpanzees pictured on the wrapper.
It was the beginning of a love affair with chocolate and contests in my courses. But… what about the crickets, you might ask? In the online forum one semester, a student had shared a link to a TED lesson about entomophagy (eating insects). It was such a fascinating video that I'd taken to sharing it regularly with students, and it often led to mixed responses. It's now actually built into their homework for their first tutorial, which deals with issues on culture, enculturation, and ethnocentrism. Sideline: My favourite bookshop in BC is a place called the Book Man and next to it there's a candy store called Sticky's. Once my son discovered Sticky's we had to strike up a deal. Each visit to the Book Man now included a visit to Sticky's. Sticky's has an eclectic collection of treats, including mini boxes of flavoured crickets and crickets embedded in lollipops. Once again, acting on impulse, I picked up a couple of boxes of crickets thinking that I would try them out as a prize.
By this point, we were coming to the end of the semester and I was looking for one final contest. I was also looking for a new way to start talking about globalization. I laid out a pile of objects (including a chocolate bar and box of crickets) on the document camera and asked students to identify where in the world each item came from. They dropped their guesses up front and I drew two names this time. When I offered up the chocolate to one student and the crickets to another the lecture hall erupted. It was one thing to talk about eating bugs, but to really have them there in class? In the first section, the student who "won" the crickets thanked me rather ruefully. In the second section however, the winner actually had the box open before he reached his seat and was happily sharing crickets with the students sitting around him.
Word has spread and at least some students entering the class each semester seem to know about my odd prize habits, even before the first contest. I'm always on the lookout for ways to shake things up a bit to get students talking. Other contests have been built around fake grave assemblages, spotting the non-primate (in the midst of a pile of primate skulls), and mapping campus food sources for post-apocalyptic foraging. If you have any great ideas, I'd be keen to see them. When you teach the same class semester after semester, it's not just the students who benefit from a little motivation and a lot of variation!