At the core of the Teaching Culture series of ethnographies is John Barker's Ancestral Lines: The Maisin of Papua New Guinea and the Fate of the Rainforest. This book has been tremendously successful in college and university classrooms because of its beautiful writing, its clear organization, and because it does not talk down to or bore students. This week, the book is available in a new edition, and we asked John Barker, the author and editor of the Teaching Culture series, to say a few words about its publication and the history behind the book.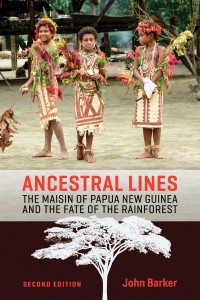 Anthropologists spend what appears to many people to be an absurd amount of time conducting ethnographic fieldwork: one to three years, initially, often followed by shorter visits stretching over many years. We do this because learning a culture is slow work. Even when one has a sharply defined research question and the subjects of research appear familiar, learning a culture requires a willingness to participate in other peoples' lives, to learn their values and orientations to life, and to question one's deepest assumptions. It's a collaborative business in which the researcher deliberately puts themselves into the position of a student learning the most basic facts of reality from local teachers generous enough to patiently answer endless questions. It's also a transformative experience on several levels, both intellectually and personally. One's initial research question often changes radically in light of discovery of unanticipated realities; but so too does one's attachment to the people who become less "subjects" than neighbours, friends, and family.
The second edition of Ancestral Lines draws from nearly 35 years of research and association with the Maisin people of Papua New Guinea, in partnership with Anne Marie Tietjen. When we first arrived at Uiaku village in November 1981, we knew very little about the people. Both of us had clear research projects in mind. Inevitably, our understandings of our respective subjects—religion and child development—deepened as our knowledge improved. But just as importantly, our Maisin teachers gently but firmly drew our attention to their priorities and concerns. One of my key aims in both editions of the book is to provide students with an idea of what the process of ethnographic learning is like with its peculiar mix of systematic research, participation in the daily life, making dumb mistakes and learning from one's errors. The first chapter relates our experience of coming to the field and the experience of participant observation.
My main intent is to provide readers with a sense of both the enduring and changing aspects of Maisin life. When Anne and I arrived in Uiaku, we were delighted by the beautifully designed painted bark-cloths ("tapa") made by most women. The cloth has become so renowned within the country that Maisin often refer to themselves as "tapa people." Although people today use mass-manufactured clothing, tapa was their traditional dress and is still worn for ancestral ceremonies and major church festivals. It is a key item for exchanges during life transition ceremonies such as marriage or death. And it is a crucial source of income for people whose villages remain very isolated from transport systems and who rely mainly on traditional subsistence pursuits for survival. Tapa, in short, speaks to many dimensions of Maisin life. It provides the key organizing device for the book. I introduce each chapter taking readers through the stages of making a tapa as a way of leading into a sequence of topics: economics, social organization, religion, and political process. Along the way, readers learn of some of the basics of Maisin life, notably the value placed upon kin relationship and reciprocity, and the challenges that the shift into a moneyed economy poses to the older ways of life.
Tapa cloth also figures centrally in the final two event-focused chapters. In the late 1980s, the Maisin communities overcame internal differences to unite in opposition to the industrial logging of their ancestral lands. Their quixotic campaign against a major international company drew the attention and support of a variety of international environmental activists, artists, museums, and media who for a brief period of time raised the profile of the Maisin to a global audience. Among other developments, teams of Maisin made tours around the world promoting their tapa as a sustainable alternative to the logging of forests and their replacement with vast commercial plantations. While welcome, the attention placed considerable strain on the communities. Their experience provides a powerful case study of the contradictory impacts of globalization on remote rural communities.
I wrote the book with first-year introductory anthropology students in mind (although it is also suitable for courses on art, the environment, or Oceanic peoples). I've aimed for clear descriptive prose, with a minimum of theoretical framing and references to make the text as accessible as possible. The sequence of chapters is deliberately set up to follow standard introductory textbooks, allowing instructors to stretch the reading of the book over a full term if they wish. In addition, the book is richly illustrated with 22 black and white photographs and an insert of 8 colour photographs, allowing readers to better appreciate the beauty of Maisin lands, tapa, and ceremonies.
The first edition ended with the Maisin's 2002 victory in the National Court of Papua New Guinea over logging companies seeking access to their lands. Since that time, Maisin and their neighbours have continued to fight off logging and development companies seeking access to the rainforest that covers much of their ancestral territory. In addition, the people face increasing flooding as the global climate warms. The second edition of Ancestral Lines includes a new final chapter surveying these and other changes, bringing the story up to the second victory in National Court in May 2015. The book as a whole has been thoroughly revised for clarity and to add new material, particularly in the chapter on religion.
John Barker is Professor of Anthropology at the University of British Columbia. He is the academic editor for two series of books: Teaching Culture and Anthropological Insights. He has published extensively on Christianity amongst the Indigenous peoples of Oceania and British Columbia, the history of anthropology, and the impact of environmental activists in Papua New Guinea.
Note: To read a teacher's review of Ancestral Lines, click here.