It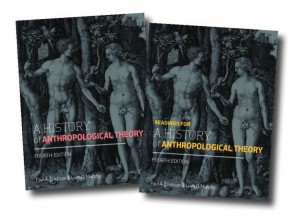 's that time of year when I have to put together backgrounders on our new 2013 anthropology titles. At the top of my list are the new editions of Erickson and Murphy's History of Anthropological Theory and Readings for a History of Anthropological Theory. Now in their 4th edition, these books have become key texts for teaching theory in North American anthropology programs. There is nothing earth shattering about the approach – it's chronological and follows major developments in the discipline, reflecting the 4-field tradition, but also providing good coverage of contemporary developments in anthropological theory (globalization, postcolonialism, non-Western anthropology, and public anthropology). But the formula – two separate texts, one offering an overview of the context, the other a relatively bare bones reader with minimal editorial intrusion – seems to offer the kind of flexibility that instructors value.
We really wanted to beef up the pedagogical value this time around. So while we include a number of new readings on 21st-century anthropological theory, the authors have also revisited the discussion questions to make them more thoughtful (and less about rote learning), and a new Keywords Glossary that focuses on key concepts rather than providing just dictionary-like definitions. We've also tried to include more visuals in the overview text that show anthropology as an active pursuit, not a dead white man's undertaking. As well we'll have supporting materials available under the Resources tab of this website with a sub-section on Teaching Theory. The personal essays we commissioned for the last edition of these books are now going to be available on the website with the hope that we can encourage others to write similar essays about how theory has informed their own work. The idea is to ensure that theory is made relevant to students and their worlds and to start an ongoing discussion about how that might look. We'll also have some weblinks and maybe some sample syllabi so we hope that over time, you can contribute and make this a lively and dynamic section of the site.
In the meantime, I'm interested to know from you about how you approach theory in your own teaching. Do you use a textbook, a reader (like the Erickson & Murphy or McGee & Warms), your own course reader, or do you simply link to journal articles in your institutional library? What kinds of resources are most valuable to you in teaching theory? Are there visuals or online resources that you find particularly useful to supplement more traditional readings? Is there an approach to teaching theory that has worked particularly well in your classroom?
Let us know by submitting a comment here or catching us on Twitter (@TeachingCulture).
Anne Brackenbury, Anthropology Editor