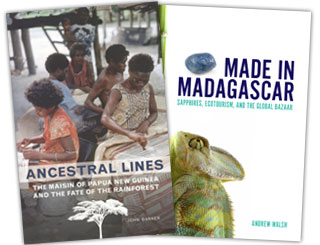 There are a lot of excellent textbooks and collections of readings for introductory cultural anthropology courses out there. Yet whether you use a textbook, reader, or some mix of the two, what really makes an introductory course memorable to students, especially non-majors, is a well-chosen ethnography.
Over the 35 years I've taught introductory anthropology, I've found the selection of an ethnography or two to be a surprisingly challenging task. Unlike textbooks and readers, few ethnographies are written with undergraduate students in mind. Those that purportedly are tend to be embarrassingly expensive or they are "classics" that, even with repeatedly revised editions (helping to keep those prices up!), tend to appeal more to those relatively few students seeking anthropology as a major than the majority of those who take our classes out of curiosity or because they've heard that anthropology is useful for careers in international relations.
I first encountered the Teaching Culture series in my seemingly endless search for engaging ethnographies for the classroom. The books focused on really interesting, original, and challenging topics pushing the boundaries of ethnographic research. This continues to be a priority for the series. Recent volumes include powerfully informative and evocative studies of child labor in Brazil, the local effects of neoliberalism as evidenced in the homeless sheltering industry, the adaptations rural Maya have made to globalization, citizen theatre groups in France promoting inclusive ideas of citizenship, organized children's sports in British Columbia, and a range of other dynamic topics. The books are written to be accessible to the non-initiated without dumbing down the complexities of theory and method. They are beautifully produced, thoroughly copy-edited (increasingly a rarity), and priced at a level that won't break the bank.
I liked what I saw, and this led me to approach the editorial team with the idea of writing my own ethnography, one that would be structured to work in tandem with a standard introductory textbook. This seems an obvious idea but it is rarely attempted—I suspect because anthropologists tend to write for each other rather than students. As I started to write Ancestral Lines, I worried that organizing the ethnography in a series of chapters on fieldwork methodology, economics, social organization, and so forth, would detract from the general concerns of the book, which deals with the role of a traditional art form in defining an Indigenous people's struggle to protect their autonomy and assure the survival of the rain forest upon which their lives depend. In fact, this organization enhanced those themes. And I couldn't have been happier with the editorial team and publication process, which was smooth, supportive, and (as these things go) remarkably fast. Oh yes, and the book has sold well…which is really nice!
As the academic editor of the Teaching Culture: Ethnographies for the Classroom series, I'm eager to build on past experiences and accomplishments. I hope to encourage new engaging ethnographies on topics that both push the limits of the discipline while informing and exciting undergraduates about the potential of anthropology. I'm especially excited about ethnographies that are constructed from teaching experiences and can effectively address the classroom. If you haven't already, you owe it to yourself to check out our latest publication, Andrew Walsh's Made in Madagascar: Sapphires, Ecotourism, and the Global Bazaar which succeeds in engaging students with snappy, fascinating ethnography while inviting them to conduct their own parallel research through Google searches and internet links. You learn a lot about Madagascar, but equally important, you learn a lot about a masterful use of media in the classroom in the hands of a superb teacher.
Does this sound interesting to you? If so, we'd love to hear your thoughts on developing the series further, including manuscript ideas on ethnographic subjects. We're also playing with ideas for relatively short, snappy, and affordable thematic texts reviewing anthropological treatments of such subjects as language, law, medicine, religion, politics, and other possibilities. If you share my frustrations in finding the right ethnography to fit today's classroom, UTP's Teaching Culture series may be the resource you're looking for, whether providing a text for your class or stimulating you to write your own.
John Barker, University of British Columbia