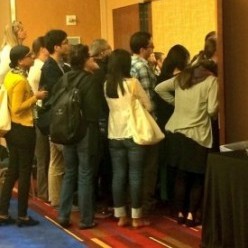 In an overflowing room at the American Sociological Association meetings in San Francisco last week, Alice Goffman, Assistant Professor of Sociology at the University of Wisconsin, Madison and daughter of the late Erving Goffman, faced her critics and supporters as they discussed her new book, On the Run: Fugitive Life in an American City. There were far more critics than supporters in the room, and many came with the express intent of making their criticisms known.
For those of you who don't know the book (and the controversy that surrounds it), Goffman has written an ethnography outlining the ways in which the criminal justice system in America impacts the everyday life and choices of an African-American community in Philadelphia. It has garnered a lot of attention both inside and outside of academia. It doesn't hurt that Goffman has pulled in kudos from a veritable who's who of contemporary sociology and that in an earlier iteration it won an ASA dissertation award. Heralded as "exceptional," "heartbreaking," "extraordinary," "devastating," and "the best work of ethnography written in a very long time," the book has a long list of endorsers. But there are detractors as well. Aside from being the daughter of a famous sociologist and a young white woman writing about young black men, Goffman has also elicited strong criticism for the way she sensationalizes life on the streets, for upholding stereotypes of young black men in the public imagination, and for questionable ethics and methods involved during her fieldwork. Victor Rios, one of the critics in the session, and author of Punished: Policing the Lives of Black and Latino Boys, suggested that what Goffman has created is a fatalistic account of criminality in the community. He asked how the moral taxonomy of the street should be used in ethnography and why it is that we have to go rogue to study the black community. What are the choices made by an ethnographer when writing? Which field notes should we choose, he asked, and how can we create multidimensional characters, not dichotomous typologies?
My aim here is not to offer yet another review of the book; there are plenty of those. Instead, I would like to raise questions about the challenge of writing ethnography for its publics, and to link the reception of this particular book to ongoing discussions about sociology, anthropology, ethnography, and their publics.
The day before I attended the Goffman session, I also attended a talk on public sociology. Featuring some big-name sociologists, including Michèle Lamont (How Professors Think) and Michael Burawoy (an articulate and passionate supporter of public sociology in all its manifestations), panelists discussed the ongoing challenges of trying to influence public policy while doing good sociology. There was some sense of agreement that in comparison to psychology and economics, sociology has failed in engaging a wider audience. The disciplinary focus on a structural analysis has left sociologists with little to offer the public, and internal squabbling and polarization instead of tolerance for what Michèle Lamont has called a methodological pluralism have exacerbated the problem.
Taken together, both sessions raised plenty of questions that don't have easy answers. Who is the public we wish to engage—that elusive well-read individual or those who are especially affected by the subject matter? What style best engages the public? Journalistic writing? Dramatic narratives? Compelling characters? Policy-like briefs? And what is the trade-off (if any) facing academics who want to do good ethnography but still reach a broader public? As one blogger has suggested, does the publisher's need for "sexy" topics to sell books, and the discipline's desire to be relevant, contribute to an exoticization of the other that compromises the ethnographer's task of trying to describe the ordinariness of everyday life? Or is there a space between these polarities where accessible writing and good ethnography can coexist?
All this calls up recent and ongoing discussions about anthropology and its publics, and in particular Didier Fassin's discussion of why ethnography matters. Fassin (who, like Goffman, also writes about urban policing and race relations) talks about his own struggle to extend the audience for his book. But where others see a zero-sum game between going public and being true to the epistemological project, Fassin sees challenges as well as possibilities. He talks about using the "critical tale"  form to describe specific scenes within the wider social structure and context, of using an interactionist approach (to describe specific and personal experiences of police brutality) as well as a structural approach (to understand the sociological background of the police force and its role in maintaining social inequality) to reach the right balance.
This is never going to be easy. It carries what Fassin calls "the risk of an epistemological blur between a rigorous approach and a normative drift." But then risk is always a part of any project worth pursuing, isn't it? Sociology may have something to learn from anthropology in this regard. As methodological pluralists, sociologists see ethnography as one of many methods to employ. In anthropology, there is no choice. Participant observation is foundational to the discipline, and ethnography its core form of dissemination. There is no choice but to deal in the messiness of ethics and representation. There is no choice but to take up this challenge.
As a publisher committed to producing more accessible ethnographies for the public (a public which includes undergraduates interested in learning more about both ethnography itself and the issues at hand), we believe in this challenge. We believe that writing a book with a strong narrative does not preclude the use of context and theory. We believe that characters can be engaging and riveting and still multidimensional; that, in fact, multidimensionality is necessary for the development of an engaging character. And we believe that ethnographers can leave enough room in their writing to trust their readers to come to their own conclusions.
-Anne Brackenbury, Anthropology Editor