It's a solemn time, even as the sun shines, and even as I sit at my desk here in Toronto, somewhat shielded from the results of the 2016 election. I've been wondering how this could have happened, until I remember that we, here in one of the most multicultural and sophisticated cities in the world, managed to elect a populist demagogue of our own not so long ago.
I'm seeing red and trying to figure out what I can learn from it. But I also keep seeing blue—that wave that represents millennial values and the future—and thinking about how it relates to public anthropology. Despite those who question the validity of the millennial map because it preceded the election, there's no question that there was a serious generational gap playing out in Tuesday's vote.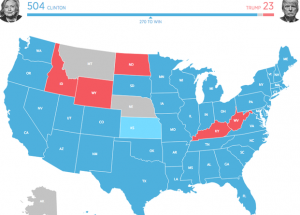 If older, white voters fear the future and cling to nativism as a response to that fear, millennials are living that future, and their most serious concern is about ensuring they live long enough (i.e., they don't get killed by police, or violently assaulted, or face the fallout of massive climate change) to actually have a job and a career. For many of them, the shopping malls and fast food restaurants they hang out in, the public transit systems they rely on, the schools they attend, the concerts they flock to, are diverse spaces. They live diversity, while their parents and grandparents wall themselves off against it.
These millennials go to colleges and universities in much higher numbers than their parents. And, if they are lucky, what they learn there (in, say, an elective course in introductory anthropology) is not just how to live in a just and inclusive society, but how to value and celebrate diversity. My guess is that the work of academics who have come of age in an academy determined to create more inclusive, safe spaces has played a significant role in helping millennials replace fear and nativism with hope and action.
One of the reasons I choose to publish books that are teaching oriented is because I've always believed that one of the strongest forms of public anthropology happens in the undergraduate classroom, with students who may not have even realized what they were doing when they decided to sign up for an anthropology course. Offering a new way for students to look at the world—one that might go up uncomfortably against their parents' views—is a commitment not to the status quo, but to change and to the future. And it's clear that that this work is having an effect.
So for those anthropologists who are only seeing red this week, I suggest you take a moment to recast things in a more blueish haze. Give yourselves a pat on the back for committing public anthropology every day you go to campus and teach a course. And then keep fighting the good fight.
Anne Brackenbury
Executive Editor, University Toronto Press