By Karina Kuschnir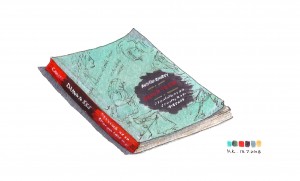 This review was first published in Portuguese by Mana, 24 (1), 271-275. 
During these somewhat discouraging times, Andrew Causey offers us a gift. Drawn to See: Drawing as an Ethnographic Method is precious for those who continue to believe that anthropology is possible without abdicating a critical, reflective, and renewed approach. Causey faces the theoretical challenges of the ethnographic project head on, proposing methodological solutions based on situations encountered in his own field work or in that of the authors cited in the excellent bibliography. Text and illustrations together make for extremely pleasant reading. Indeed, this is a rare work that manages to reflect, experiment, demonstrate, and propose ideas while highlighting its own gaps and making us smile along the way.
Drawn to See is theoretical and methodological, but also a personal memoir—a written and graphic diary of the author as ethnographer. Its value is in these multilayered narratives, in which life, research, and work appear intermixed, as a healthy anthropology should be. Ethnography is understood not only as a means of knowledge building, but also as a context in which relationships, feelings, sensations, visualities, sharing, respect, and communication can flourish. Teaching readers to use drawing as an ethnographic tool is a prime aim of the book, but at the same time it is secondary to the goal of helping us see the world (visible and invisible) in a more focused and active way. It is a quest to reconcile those two pillars of anthropological methodology: observation and participation.
The book is divided into seven chapters, with 72 illustrations spread throughout. Causey includes 39 exercises, called "Etudes" (studies), a word that refers to the scores made to perfect the techniques and skills of musicians. The goal is not to form artists, but rather to stimulate the use of line drawing to contribute to fieldwork. Suggested materials are simple: pencil, plain paper, felt-tip pens, and napkins are the only things needed to carry out the tasks. Anticipating the possible resistance of its academic readers, the author proposes a list of the necessary predispositions to start: relax, focus, feel, concentrate, slow down, accept (without evaluation or comparison), become interested, be curious, draw what is seen, detach oneself from the ego, and practice.
As we come to realize in reading the book, this advice is the result of the author's experience as both an artist and anthropologist. Currently a Cultural Anthropology Professor at Columbia College in Chicago, Causey completed his masters and doctorate at the University of Texas, Austin, a place whose tradition helps to understand his belief in the ethnographic project, while still addressing its paradoxes and difficulties.
His research took place among the Batak Toba, on Samosir Island, a volcanic island located in the center of Lake Toba, North Sumatra, Indonesia. It is an amazing place (try typing Samosir Island into Google images) that attracts tourists from around the world, and ended up being the focus of Causey's research in 1994-1995, as well as a return visit in 2012. The ethnographer became an apprentice of Partoho, a local artist and wood sculptor, who, along with his wife Ito, was his main interlocutor during fieldwork.
Reading this book allows us to follow the re-signification of the use of drawing in anthropology between the 1990s, when the initial research was done, and the years 2014-2016, when the book was initiated, written, and published. By the time he finished his PhD in 1997, Causey exhibited drawings done during his fieldwork at UT Austin. Images depicting people, however, had to be withdrawn on the grounds that they were not serious enough and could prove offensive to the population studied. At that time, very few scholars considered the benefits of using graphic records (sketches, drawings, watercolors, paintings) as part of visual anthropology, which focused almost exclusively on the use of photography and film making. One of the great merits of Drawn to See is that it consolidates and expands the role of drawing to a place of more prominence in the ethnographic enterprise.
The book has much greater impact than its stated goal of introducing line drawing as "another set of options for collecting, recording, and presenting ethnographic information" (p.3). To date, there have been good drawing books on the one hand; and good anthropology books on the other. No doubt, one can find good articles being published on the relationship between the areas. But this is the first ambitious work that faces densely—both theoretically and empirically—a way to bridge the best from both worlds.
From a drawing perspective, the 39 drawing exercises are clear and accessible. The author's goal is that anyone can try them. In this sense, linear drawing seems a good choice to focus on, since this is the graphic language closer to the universe of literate people.
One of Causey's innovative and interesting proposals is the use of essential forms based on numbers and letters. The idea of using the primary elements (points, lines, and curves) to draw complex figures is not new, but to base them in numerical and alphabetical forms is a welcome application by the author. Along with the perception studies 1 and 2, the 3rd and 4th Études form a simple but very effective set of exercises to develop the ability to see through drawing.
In the following 35 etudes, Causey alternates between the simple and the elaborate in a stimulating and fun, but also reflexive and thoughtful, manner. The exercises are of high graphic quality, as they are printed on gray background, with illustrations accompanying textual explanation. All artwork (etudes and images) is clearly numbered and contain estimated times for completing the tasks. Most of the etudes can be done in less than 10 minutes; only two take 10 to 15 minutes; and four do not have a defined range. This makes them more attractive to newbies and can convince even the most skeptical that one does not need 10,000 hours of practice to produce relevant ethnographic drawings. The idea is to pave a path to look, to see, and perceive, as the book title emphasizes.
From an anthropological perspective, Drawn to See tackles complex questions with the same clarity it devotes to drawing. As noted, Causey faces the problem of the double task of "observing" and "participating" as well as numerous other issues associated with the ethnographic project. From the need to be attentive and capable of recording and memorizing, along with the ability to dialogue and reflect on the researchers' and interlocutors' subjectivity, the author addresses key problems in the production of anthropological knowledge, the representation of ideas, temporality, diachrony, synchrony, and corporeality, among others. And all of this is compounded by a deep commitment to ethics in ethnography, as shown by the various examples that invite us to learn from Causey's own doubts, failures, and difficulties in the field. Particularly noteworthy is the balanced and sensible tone of the author's language, showing respect, empathy, and interest in the worlds he investigated, with no sign of the presumption, paternalism, and messianic assertiveness that unfortunately so often attend anthropological literature.
This same sense of ethics can be noted in the way the author deals with his network of intellectual support and the referenced literature. Each image, when not his own, is published with a permission notice and reference to the source. Citations to authors, articles, and the works consulted are clear and precise, always indicating the corresponding pages. Many Études indicate the sources that inspired them, either published works or oral communications. The Reference section is in itself a remarkable enterprise because it offers a comprehensive survey of the field, especially in English. It is an essential contribution for all scholars interested in the subject.
Among the many attractive qualities of Drawn to See are the stories of the author's fieldwork. Acting as an apprentice of Partoho, Causey realizes how differently they see things. When copying his master's drawing, he is reprehended by registering it in a "wrong" way, in an aesthetic sense oblivious to the Toba Batak. Readers will enjoy these stories of the ethnographer's images being criticized by his interlocutors, sometimes for not realizing culturally relevant details, sometimes for representing in an ironic/wrong/distorted/fragmented way what seems correct, decent, or obvious to them. On one occasion, a group of women took the researcher 's notebook and required him to redraw another woman's portrait until they were satisfied with its resemblance.
Causey's reaction is encouraging: to draw is to accept risks; to draw is to generate memorable and revolutionary experiences; to draw is to assume that the researcher "does not know what he does not know." Images are notes, field documents that are there to be seen. There is no need to apologize, but to learn from the dialogue, reactions, and interpretations. All ethnographic drawing is worth it, as long as it is an ethical creation, morally and intellectually responsible. In this regard, there is a touching discussion of the ethnographer's interview with a war veteran, a widower whose claim to fame was arrogance and pride. During the meeting, which reverses his expectations, the author did not sketch or make any written record. He focused on his interviewee's eyes, exercised his peripheral vision in dim light, accepted the need to memorize and to be silent as part of the experience. Not everything, after all, can (or may) be registered.
In the closing chapters, Causey discusses how to see beneath the surface, how to bring out the structures and motivations that animate people, things, and animals. His answers in text and images are of a rare beauty: they reveal themselves more as questions than solutions; as imperfect and experimental; as doors that open to make sense of the world—possibilities within the impossible ethnographic project.
About the author: Karina Kuschnir became an anthropologist because she failed a drawing test to enter Design School. She works in the Department of Cultural Anthropology of the Federal University of Rio de Janeiro, Brazil, and has been researching ethnographic drawing since 2011. She recently published "Ethnographic Drawing: Eleven Benefits of Using a Sketchbook for Fieldwork." Whenever possible, she draws and writes for her personal blog: https://karinakuschnir.wordpress.com.
About the little book that illustrates this post: Drawing made by me (Karina Kuschnir) in an A5 spiral bound sketchbook by Cotman. First, I did a quick sketch in pencil, then inked it with a waterproof ink pen (Pigma Micron sizes 0.2 and 0.05). The colours were painted with watercolours (mostly Winsor and Newton) and some gouache and graphite for the cover's details and writing.