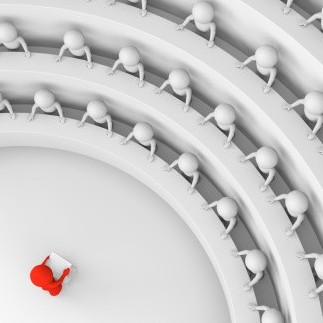 I have spent a lot of my teaching career speaking to and with first-time anthropology students. I take it as part of my responsibility to excite these students about anthropology as a discipline and, for me, this is as important as providing information and helping with writing, reading, and thinking skills. I want students to come away from my classes with an understanding of anthropology's perspective on issues and problems in their worlds—and in the worlds of other people today. I want them to see an anthropology degree as the foundation for a great job. And, I want them to be able to explain the value of anthropology to others, including Ohio University economist Richard Vedder. Vedder was quoted recently in the Wall Street Journal stating that governments that help students discharge their school debts encourage them to take programs with limited job opportunities—like sociology and anthropology. This "moral hazard" leads anthropology graduates into low-paying jobs (WSJ, August 23, 2013). (Readers may also remember the uproar caused by Florida governor Rick Scott who, in 2011, described an anthropology degree as one without job prospects.)
When I teach Introduction to Cultural Anthropology, I try to make the relevance of anthropology clear in every class. This starts on Day 1, just after I've stated my name and welcomed students to the class. With those rituals out of the way, I begin the first class with a pictures-only presentation titled "What I Did Last Summer." My research is with Indigenous peoples in British Columbia, particularly in the context of resource development. In my presentation, I share pictures of that work and the places it occurs. And, I tell stories about the fun and challenges of anthropology's methods and my efforts to answer research questions. Students usually get most interested when I introduce the conflicts that exist between communities and resource developers. It is here, I've found, that students become aware of the relevance of anthropology. Students have heard reference to stories like these in the news. They frequently have opinions on development—and are willing to share them.
I have found there are lots of good reasons to talk about myself and my work first thing on Day 1.  These reasons include:
Capturing attention more quickly than a run-down of the syllabus.
Giving students who have never taken an anthropology course an immediate sense of what anthropology is. I dispel rumours and misunderstandings with these slides. No dinosaurs, for example. Students who are truly disinterested can find another course to take.
Giving students a sense of what kind of anthropological work I do. This, in turn, allows them to decide if the choices I make for course content are of interest to them. Again, if they find they don't like my style or background, they can find another section or another course.
Explaining what anthropology is and how it is done using specific examples. With this presentation finished, the class and I have examples to discuss before anyone has read the textbook. I often return to these examples during the semester.
Helping me relax, because my experiences are easy for me to talk about.
My introductory courses in anthropology are, by necessity and design, very personal. I suspect yours are too. What strategies do you use on Day 1 to draw students in and to alleviate anxiety?
I teach anthropology at the University of Guelph. I am the author of We Are Still Didene: Stories of Hunting and History from Northern British Columbia (UTP, 2012). And, I am active on Twitter and tweet @tadmcilwraith.